We've all heard that old expression, "Food is the way to a man's heart" …
But what if we told you that food is the way to parents' hearts at your next travel meeting?
Why Food?
As you plan and organize your upcoming parent meeting, why not include traditional food to build excitement and curiosity about the travel destination?
Food is such a powerful tool. It has the power to unite us. It gives us energy after a long day. It entices us to explore faraway lands and new cultures. The simple act of adding an authentic, cultural snack to your parent recruitment meeting is an easy way to make a lasting impression!
To help you plan your meeting menu we've developed a list of simple snack ideas for some of our top destinations. Bon appétit!
France:
France is known for its gastronomy and so it is especially fitting that food be included in a recruitment meeting. If available at your local supermarket or bakery, stock up on colorful French macarons. These melt-in-your-mouth cookies are sure to please. Other easy ideas include fresh croissants, pains au chocolat, sliced baguette with various cheeses, French chocolate or freshly brewed café au lait.

Pains au chocolat - Photo by Mink Mingle on Unsplash
Spain:
Entice parents to send their child to the land of tapas by sharing some of Spain's culinary treasures. If available, serve perfectly sweet and crispy churros-Spain's famous fried pastry. An equally sweet idea is Spanish hot chocolate-much thicker than its American counterpart. Bread with an assortment of chorizo sausage, ham, salami, olives and cheese is also a great, authentic tapas option.

Italy:
When most people think of Italy, they think FOOD, and for good reason! The hardest part of planning snacks for your Italian parent meeting is deciding what to include. For a sweet start to the evening serve Italian biscotti along with steaming espresso. For a more savory palate, why not offer a plate of traditional antipasti including bruschetta, pickled vegetables, olives, fresh cheese and cured meats such as prosciutto.

Costa Rica:
The tropical and fertile land of Costa Rica produces some of the world's most prized culinary treats including chocolate and coffee-both crowd pleasers for any parent meeting. For another taste of Costa Rica be sure to serve plenty of this nation's fresh, tropical fruit such as mangoes, pineapples, guavas, bananas, starfruit and passionfruit. A quick trip to your local Latin grocery store is also a great opportunity to stock up on authentic snacks such as plantain chips and imported fruit juices.

Peru:
Peru's focus on healthy cuisine, a mix of fresh and conventional ingredients, and local products in traditional dishes such as Pachamanca (which has been around for hundreds of years) has globally elevated Peruvian cuisine resulting in international prizes and recognitions. The arrival of the Spaniards in the 15th century introduced new flavors, and Peruvian cuisine continued to evolve over the next few centuries adding African, Chinese, Japanese, and Italian influences. Today, local favorites include Ceviche, Lomo Saltado, Aji de Gallina, Jalea, Juanes, and Tacachos. Don't forget the sweets! Alfajores, Picarones, and Mazamorra will complete your MUST-taste-menu of a delicious Peruvian meal.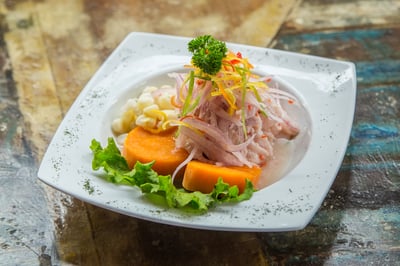 Peruvian Ceviche - Photo by Pirata Studio Film on Unsplash
Québec:
Nothing says Québec more than poutine, the traditional dish of French fries, gravy and cheese curds. Whip up a simple version of this Québécois classic using frozen fries, pre-made gravy and chunks of cheese. Too involved? Why not welcome parents with a maple candy-Québec is the world's largest producer of maple syrup after all. Added benefit: parents will be extra excited and alert thanks to the sugar rush!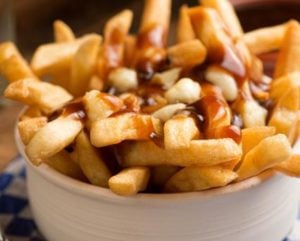 Are you hungry yet?
Updated February 3rd, 2021. First published September 6th, 2018.