Here at Prométour, we are counting down the days until Christmas! While this year's holiday season will be different from those in the past, we're hopeful that some of our most beloved traditions will remain as unchanged as possible. One of our favorite holiday activities is snuggling up with a cup of hot chocolate and sifting through some of the best Christmas markets from around the world!
Check out the cities that always make our list of favorites:
Vienna: Viennese Dream Christmas Market
At the top of our list is the Viennese Dream Christmas Market. Every year, Vienna's City Hall is transformed into the world's most famous Christmas market. A step inside is a step into a winter wonderland with an outdoor ice rink and reindeer rides. The Christmas spirit is perfected by the sounds of international choirs singing carols as you wander through the many stalls. There are also a variety of workshops to visit; try your hand at baking cookies or candle making! At the center of it all is the stunning Tree of Hearts, an extravagant Christmas tree that will surely take your breath away.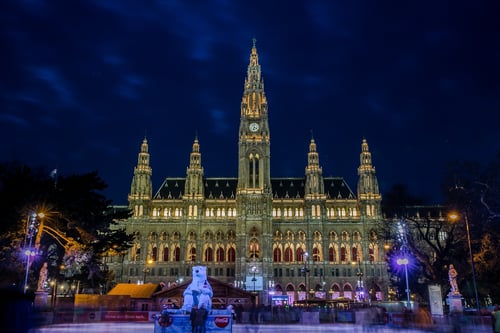 The capital's town hall is transformed for the Viennese Dream Christmas Market.
New York City: Grand Central Holiday Fair
There are a handful of must-see sights to visit if you are in the Big Apple over the holiday season, however you cannot forget to visit one of their many Christmas markets. If you have an eye for grandeur, we suggest stopping at the Grand Central Holiday Fair. The fair is in the lavishly decorated Vanderbilt Hall at Grand Central Station and is the perfect stop for holiday shopping. Browse the many kiosks until you find what you're looking for; popular items include Christmas ornaments, toys, and accessories! You can even visit the market virtually and order your favorite goods online. Don't forget to stop at the Rockefeller Center on your way over!
Strasbourg: Christkindelmärik
Get lost in photos of Europe's oldest Christmas market: Christkindelmärik. Records of Strasbourg's famed Christmas market date back as early as 1570. The market is scattered throughout the town in 10 separate locations, all intertwined by the illumination of Christmas lights. The most popular market is that of Place Kléber, which is where you can find the 30-meter-tall (minimum) Christmas Tree. Much like the other Christmas markets, the Strasbourg market has an ice rink and is filled with kiosks selling artisan items and delicious treats. Visitors are also invited to enjoy a river cruise that weaves through Strasbourg. Undoubtedly, the Christmas spirit enchants this small town.
Christmas markets are filled with kiosks and vendors selling local goods.
Berlin: Winter World in Potsdamer Platz
Berlin has a handful of Christmas markets for you to explore, however the Winter World in Potsdamer Platz is enjoyed by visitors and locals alike! Throughout the month of December, the square becomes home to vendors sharing their craft; you can find artisan items and local German delicacies to sample. This market is known for its celebration of winter sports; there is a series of active endeavors to try, among them is tobogganing and curling. There is no better way to get into the spirit than by playing in the snow and marveling at the beautiful decorations!
Québec City: Le Marché de Noël Allemande de Québec
It may be our inherent bias, but Québec City always finds a place at the top of our list. Le Marché de Noël Allemande de Québec celebrates the classic German markets with a kid's play area called Kindermarkt and endless German treats like mulled wine and bratwurst. Old Québec is filled with rustic wooden kiosks and classic Christmas decorations. Guests are welcome to explore the outdoor bar and to visit the many vendors selling local and imported items. The Marché de Noël Allemande de Québec is the perfect place to find the Christmas spirit and even meet Santa Clause!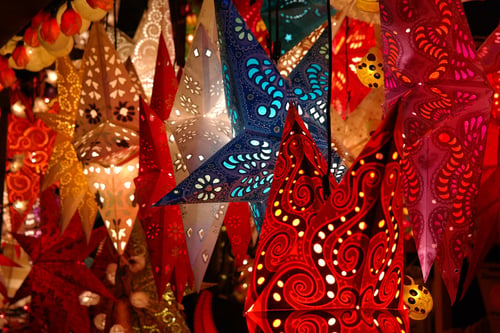 Christmas markets are known for their stunning decorations and bright lights.