Being over four hundred years old, it shouldn't come as a surprise that there is so much to see and explore when travelling to Quebec City. It is one of the last remaining cities in North America that is still fortified by a wall and is famous for being a mixing pot of old traditions, new ideas, cobblestone streets and modern architecture. It's home to incredible festivals, amazing restaurants, world-class museums, numerous historical sites, cultural institutions, beautiful parks and natural areas. With so much to see and do, we've decided to whip up a list of our 15 favorite places to visit. Enjoy!
****
Ice Hotel
Situated 15 minutes north of Quebec City, the Ice hotel features 44 rooms and themed suites, decorative gas fireplaces, a café, an ice bar, unbelievable ice sculptures, a giant slide and so much more. There's nothing quite like it in North America and since the hotel is completely redesigned and built from the ground up every year and features a new theme – regardless if you've been before, each visit offers a new experience.
-
Wendake, the historical homeland of the Huron/Wendat/Wyandot Nation
Wendake is the ideal place to discover the traditions of the Huron-Wendat people in Quebec City and to see first-hand the Huron way of life. Visitors can take a tour of the Long House, a traditional dwelling of the Hurons and participate in a traditional dance show and natural medicine workshop. There are also tours of the smokehouse, the drying tent, and a sweat lodge and visitors are also invited to be purified by the shaman when stopping over at the giant teepee. Meanwhile, during the summer, visitors can explore the area in canoes and travel the native lands with snowshoes in the winter. This site offers visitors a unique opportunity to discover the history, culture, and lifestyle of the Huron people of the past and of today and therefore, it comes highly recommended.
-
Valcartier Vacation Village
Located just 20 minutes outside of Quebec City, Valcartier Vacation Village has been the winter playground for visitors of all ages and one of North America's most popular recreation and tourism destinations for over 50 years. Offering a true one-of-a-kind experience, and now open 365 days a year, the expanded resort is unique for its wide array of activities all in one place. The complex includes a four-star hotel and indoor waterpark, North America's largest winter playground, an outdoor waterpark, the aforementioned Ice Hotel, and so much more.
Observatoire de la Capitale
Enjoy the view of Québec's capital from its highest point. Situated on the 31st and top floor of the Marie-Guyart Building, Observatoire de la Capitale offers a 360 degrees view of Québec City from 221 m (692 ft) above street level making it the best place to see the old capital from above. By the time your visit is over, you will never look at Québec City the same way.
Sanctuary of Sainte-Anne-de-Beaupré
Welcoming people from all walks of life for over 350 years, The Sanctuary of Sainte-Anne-de-Beaupré is the oldest and most important pilgrimage site in North America. Set along the Saint Lawrence River in Quebec, 30 kilometers east of Quebec City, the pilgrimage offers masses in several languages and hosts well over a half a million people each year. It's also a marvel of architecture and symbolism with its 75 stained glass windows, marvelous mosaics, 326 columns and revered statues of saints and precious relics.
Montmorency Fall
Just 15 minutes drive from downtown Québec City, Montmorency Fall is home to one of the highest waterfalls in Canada (30 meters higher than Niagara Falls), and features an enormous panoramic staircase (48 steps), a cable car and a suspended bridge over the crest of the falls. There's even a zip line tour for the more adventurous travellers which is offered from May to October. And if you're visiting in July or August, you can catch the international fireworks competition that takes place at the park!
Visit Quebec City's Various Churches
There's so much to do while walking along the fortified walls surrounding Quebec City including stopping by many of the stunning churches spread out across the old town. For the faithful, attending Mass in any one of the following churches and basilicas becomes especially memorable. We recommend starting with the 300-year-old church Notre-Dame-des-Victoires Church located at the historic Place Royale, where Quebec City was founded in 1608. From there move on to Notre-Dame de Québec Basilica-Cathedral which includes the crypt, where four governors of New France are buried; a sanctuary that is carefully constructed according to seventeenth-century plans; intricate stained-glass windows; and three Casavant organs. Also worth seeing is the Cathedral of the Holy Trinity, the first Anglican cathedral to be built outside of the British Isles. Sitting in the middle of the heart of the Old City, the church has a set of eight change-ringing bells, built in London by the same foundry that cast Big Ben.
Musée national des beaux-arts and the Plains of Abraham
Musée national des beaux-arts du Québec which just celebrated its 85th anniversary, houses a reference collection of more than 38,000 works—a comprehensive overview of Québec art from the 17th century to the present day. The museum spans 4 pavilions and is located in the center of the magnificent Plains of Abraham, the site of the famous battle between the French and British Empires, during the 1759 Conquest, which changed the fate of North America.
Apart from its historical past, Plains of Abraham is to Québec what Central Park is to New York with millions of visitors and tourists arriving each for sports, relaxation, outdoor concerts, and other festivals. Needless to say, the park is a must stop for anyone visiting Quebec.
The Château Frontenac
Built by Canadian Pacific beginning in 1892, and designed by architect Bruce Price, the Château Frontenac is an excellent example of château-style hotels developed by railway companies in Canada. Sitting predominantly atop Quebec's upper town, Château Frontenac is said to be the most photographed hotel in the world and has received several awards and honors including a Four Diamond designation from the CCC/AAA and one from Expedia Insiders' Select as one of the world's best hotels. Considered a cultural monument associated with Québec's history and a historical jewel designated a World Heritage Site by UNESCO, the Château Frontenac is a must-see attraction.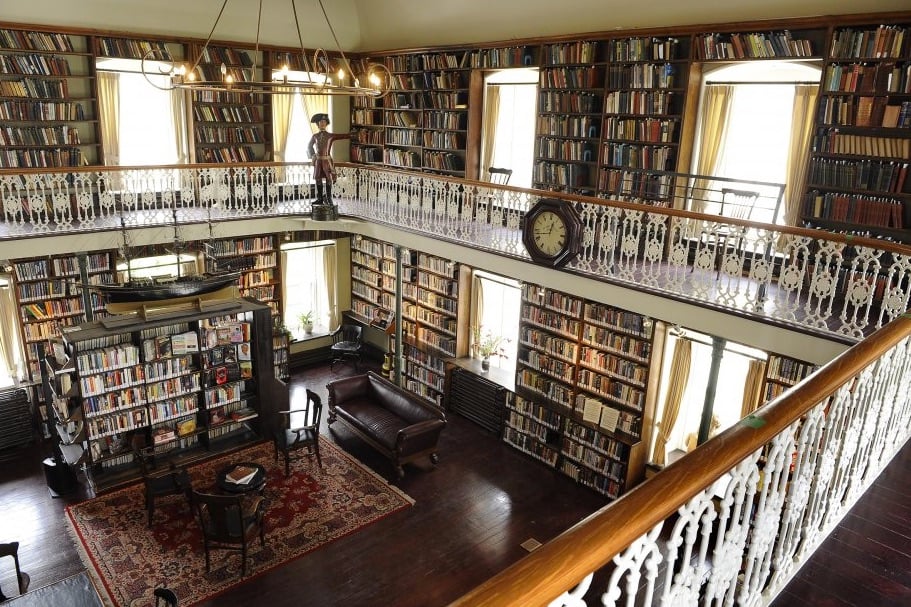 The Morrin Center
Formerly a prison, now Quebec City's flagship English-language cultural hub, the 200-year-old Morrin Centre is the city's best-kept secret and houses one of Québec's most beautiful libraries. Featuring a Victorian-era library which boats unique masterpieces dating all the way back to the 16th century, the library features over 25,000 books, workshops, an old-timey chemistry lab, guided tours, and even readings by prominent authors.
La Citadelle
This star-shaped fortress is the oldest military building in Canada and forms part of the fortifications of Quebec City, which is one of only two cities in North America still surrounded by fortifications (the other being Campeche, Mexico). Nicknamed the "Gibraltar of America", the citadel was built between 1820 and 1850 and is situated on Quebec City's Cap Diamant, the highest natural point in the area. The site receives some 200,000 visitors annually and is currently home to Canada's Royal 22nd Regiment.
-
Aquarium du Québec
The Aquarium du Québec is home to more than 10,000 animals representing more than 300 species of fish, crustaceans, mollusks, reptiles, amphibians, invertebrates, birds, and marine mammals. Located just 15 minutes from downtown Quebec City, the Aquarium is a unique attraction in the province and draws thousands of visitors every year.
Toboggan Slide Au 1884
This unique slide in Quebec City is more than a century old, making it one of Quebec City's oldest attractions. It runs through the middle of town—starting at the Terrasse Dufferin and uses old-school wooden toboggans that reach speeds of up to 70 km/h (43 mph) and seat up to four passengers.
Quartier Petit Champlain
The Quartier Petit Champlain is known as one of the most beautiful sections of Old Quebec and is usually everyone's favourite place to stop when visiting the city. Located at the bottom of the cliff under the Château Frontenac, this authentic area is known for its art galleries, restaurants, and many shops that feature French fashion, handmade shoes, arts and crafts, and more. If you do travel to Quebec, be sure not to miss the oldest commercial district in North America!
Terrasse Dufferin
Last but not least, is the lovely area known as Terrasse Dufferin. Located just below the Chateau Frontenac, the beautiful terrace which overlooks the St. Lawrence River is often populated with several entertainers and artists and has become a popular gathering place for various festivals. In the summer it's the perfect place for exploring both the panoramic beauty and the rich history of Old Quebec and in the winter it becomes the site for the annual Toboggan Run mentioned above.