There are countless gizmos and travel gadgets on the market today that can go a long way in helping your next school trip run smoothly. Let's face it, while travel can be fun, energizing, and exciting – it can also be exhausting, frustrating, and problematic. After listening to a few stories told by teachers who travelled with us, I've decided to whip up a list of products that will solve most travel problems with a minimal investment.
****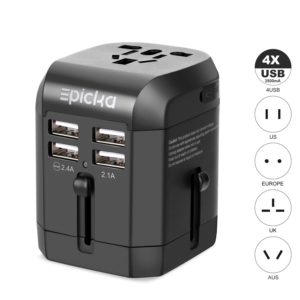 Travel Adapter
I'm always surprised to learn that many people are not aware that plugs and voltages vary from place to place around the world. There are, in fact, 14 different plug types commonly used across the globe and if you are travelling from North America to say Europe, you won't be able to charge your laptop, cell phone or any other North American device without the right adapter. If you're not sure which adapter to buy, we recommend the Universal USB Travel Power Adapter from EPICKA. This particular model is affordable, small enough to fit in your pocket. covers more than 150 countries (with US/EU/AU/UK plugs), accepts a USA polarized plug, and the Universal 8 Pin AC Socket which allows for the use of many different plug designs. More importantly, it is also designed for iPads, iPhones, cameras, and other devices both students and teachers tend to travel with.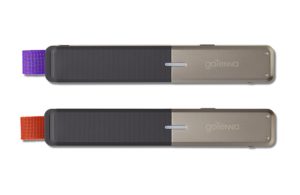 goTenna
This next device is great for teachers who often worry about finding themselves in an emergency and losing cell phone connection during their travel. GoTenna, a Brooklyn-based hardware startup, offers a solution for off-the-grid travelers who need low-cost connectivity for their smartphone. More importantly, goTenna Mesh sends messages via a 1-watt UHF radio transmitter without needing to rely on towers, routers or satellites. In terms of distance, the range will usually reach up to 3 miles (4.8 km) in open terrain, and up to a mile (1.6 km) in congested terrain and if that's not enough, the goTenna Plus app upgrade enables a network relay feature, so you can reach people even further away. While it is sold in pairs, the downside is it still pretty costly, hovering around the $132 price point. That said, it's still worth the investment for a teacher who travels yearly.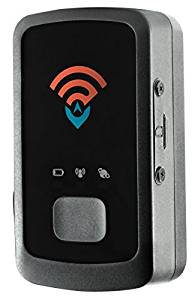 Luggage Tracker
As someone who has had their luggage lost and stolen while travelling to Europe, I highly recommend getting a Luggage Tracker. The device is definitely a worthy investment for those of you who travel often since it tracks your checked baggage anywhere your mobile phone works using various technologies, including Bluetooth and GPS. It can also be programmed to send text messages upon landing at your destination and alerts you to the status and location of your belongings. There are several options when shopping for a Luggage Tracker but if we had to recommend one, the Spy Tec Mini Portable is perhaps the best choice due to its accuracy and two weeks of battery life.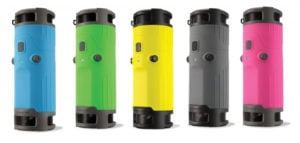 Wireless Portable Speaker
This may be a hard sell for teachers but hear me out. When I used to travel with my students, I would whip up a playlist of popular French music to play in the background when travelling on the bus. It proved to be a great way to inspire students to take an interest in French culture and somehow it also managed to make the kids relax. And while not all the kids would like the music I selected, it was worth the trouble for the few students who did take an interest and later download classic French tunes from artists such as Jacques Brel, Edith Piaf, and Charles Aznavour, to name a few. Featuring two 40mm speakers, a built-in microphone, a waterproof design, and a 10-hour rechargeable battery, Scosche's boomBOTTLE is the device I recommend.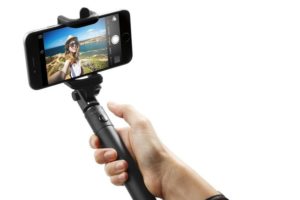 Selfie Stick
For teachers who don't mind having their students taking photos on their school trips, a selfie stick can come in handy. And let's be honest, even if you're not a fan of selfies, chances are you'll want at least a few pictures of your group to document your trip. After all, a lot of work, time and preparation go into organizing student travel so there is no shame in wanting some photos to bring back home.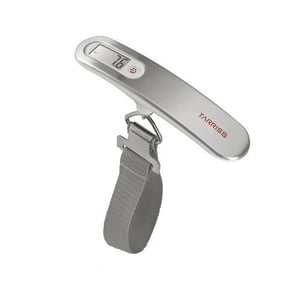 Luggage Scale
You'll be surprised how often teachers inquire about luggage fees. It's a question we get often since teachers do like to bring back memorabilia and gifts for their family and friends back home. That is why I recommend this compact and lightweight luggage scale with an easy-to-read LCD display that does not require a battery-draining backlight to read. Never pay unexpected overweight luggage or baggage fees again using this gadget.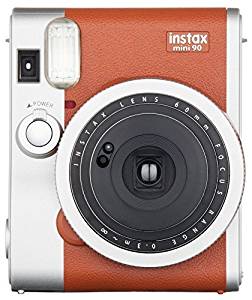 Digital Polaroid
Many teachers I know don't necessarily have an issue with their students taking photos when travelling but rather a growing concern as to what their students are sharing online – which is why I recommend a digital Polaroid camera to take on the go.
Instant film has made a big comeback in recent years and it's pretty easy to understand why. Despite being relics from the bygone analog era—it satisfies our desire for instant gratification and the ability to give someone a photo right away, just can't be matched with a digital capture. The idea of owning a camera that prints pictures instantaneously appeals to people of all ages and yes, that includes your students. In fact, instant film is so popular these days that both my nephews and my niece put it at the top of their Christmas list last year. There are many reasons to invest in an instant camera: digital polaroids are fairly inexpensive, yet great gadgets for creating a physical memento of life's most fleeting moments and given they are compact, it is easy to carry around. There are many digital polaroids that I can recommend but if I had to choose one, I'd pick the Fujifilm instax mini 90 for its cool retro design, as well as the ability to automatically adjust its settings based on the lighting conditions. It can also deliver high-quality prints as fast as you can upload any image to Instagram.
Go Pro
Last but not least, we recommend a GoPro for teachers who may want to spend the extra cast to document their entire trip without the hassle of lugging around heavy equipment. This is without a doubt the most expensive item on this list but when compared to other video cameras on the market, the GoPro is a steal. Their small size and dramatic POV footage have made them popular with travel, not to mention they are tough, simple to operate, and can shoot high-definition video in a wide-angle format. Highly recommended for the teacher who wants to invest in a camera that they can use both on school trips and in their personal life. If it was good enough for NASA to film a spacewalk on the moon, it should be good enough for you.