Before the start of the summer Prométour put together a Green Committee! We already had some of our work cut out for us. Within the office, our company provides appliances and dishes so that it's easier for staff to eat in rather than order out. We have plants to provide better air, and are proponents of upcycling rather than throwing things out. On a company level, we partnered up with Taking Root back in 2013 in order to allow participants who go on our trips to offset their carbon footprint on flights.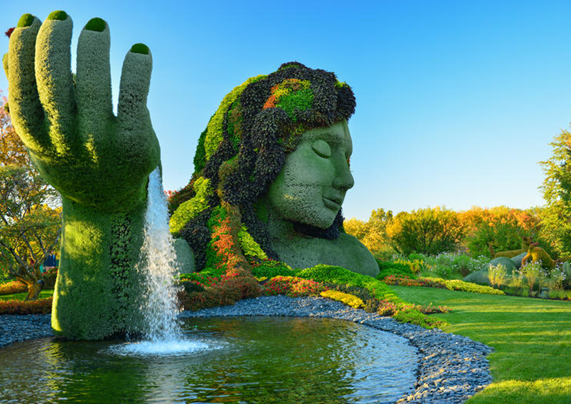 Pledge Month – Getting the Office on Board!
We still had some more work to do. First off, we wanted to get the entire staff on board with being greener. We decided to have monthly events to promote a greener lifestyle. To kick it off, we created Pledge Month. Employees pledge to create greener habits, and break bad habits that hurt the environment. Those who participate complete a short survey at the end of the month to be entered into a draw to win prizes. The prizes are all related to a greener lifestyle, such as gift certificates to a vegetarian restaurant, tickets to the Montreal botanical garden, a plant with a macramé plant holder, a vegan beauty shop gift certificate, and a reusable water bottle.
So far members of our staff have pledged to try more vegan friendly diets, use reusable grocery bags, use more sustainable beauty/cleaning products, pick up litter, and to reduce the amount of waste they produce. (no coffee cups, Ziploc bags, etc.) We all share pictures and stories of our journey through our company messenger system. We'll let you know how it ends!
Office Changes – The Bins, Recycling & Composting!
We made some concrete changes to our office. First off, we removed all individual garbage and recycling bins, and opted for a larger and centralized bin system. Studies show that this prompts office workers to think more thoroughly about where their waste goes. It also reduces the number of plastic bags used, and allows the cleaning staff to focus on other tasks.
Next, we also added a small bin for recycling things like batteries and cellphones. We also partnered up with Montreal Compost in order to start composting at the office! We feel confident that now our office waste is properly disposed of, and not creating unnecessary C02 at a dumpsite.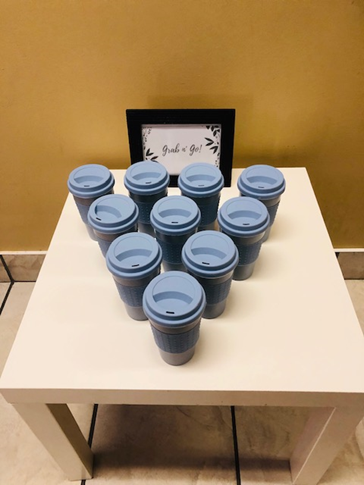 Office Changes - Grab n' Go
What is a Grab n' Go? It is what we named our station of reusable travel mugs! It's not always easy to remember to bring your own travel mug from home. When one of our staff goes on break to pick up a coffee, they can just grab a travel mug and go! When they come back, they can drink their coffee, wash the mug, and put it back on its shelf. It's now easier than ever to not use disposable coffee cups!
Office Changes – Office Rules and Going Paperless
We also created a more official set of rules for our staff to follow. These rules are all related to saving energy by turning off whatever technology is not in use, and reducing waste. We have also cancelled all of our junk snail mail and magazine subscriptions. Over the years, technology has made it easier to go paperless, and Prométour has kept up, and we promise to keep doing so!
Our Future Green Projects
We plan to introduce more fun events to keep our office engaged in our green initiative. We also want to implement more helpful office tricks to staying environmentally friendly. We also have plans to go greener at the company level! Stay tuned for all of our future green news! We hope you enjoyed what we've shared so far, and are inspired to try some of these ideas out at your school or office! Or, feel free to share with us some great ideas you've tried!