The first city that comes to mind when we talk about France is Paris and the first attraction that comes to mind when we mention Paris is the famous Eiffel Tower. There are of course plenty of famous attractions to be found throughout this beautiful county but we wanted to highlight a few destinations that teachers may be interested in visiting the next time they take their students on a trip. You won't find the Centre Pompidou, National Museum of Natural History, the Musee d'Orsay or any other well-known location on this list. Instead, we've decided to point out a few unusual places, that may interest both art teachers and foreign language teachers alike. More importantly, many of these locations are either free to visit, or at least cheap.
****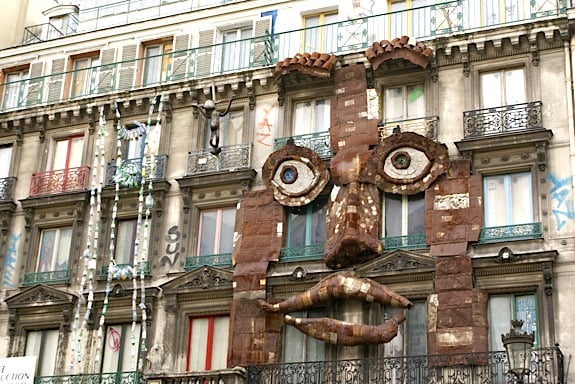 59 Rivoli
You've probably heard of Rue de Rivoli, one of the most famous streets in Paris known for hosting many high-brand shops including some of the biggest names in the fashion industry, but not many people are familiar with 59 Rivoli, a six-storey, Haussmann-style building situated in the very heart of the boulevard. The building was once an artist squat for years before being renovated by the city of Paris and given to a collective of artists. Now, it houses over 30 studios, an exhibition gallery and free concerts that take place every Saturday and Sunday on the ground-floor gallery starting at 6 p.m. If you're looking for something unusual to do on an afternoon in Paris, then 59 Rue de Rivoli is one of the most interesting places you can visit. Located near the Louvre and not far from the Notre Dame, 59 Rivoli is a welcome break from the popular museums that tourists usually seek out. There's also the chance to not only meet the artists themselves but see them hard at work. And did I mention it is free?
The Museum of Vampires and Legendary Creatures
Chances are if you are visiting Paris with your students, it is likely you have plans to visit quite a few museums. The Louvre, Musée d'Orsay, and Musée de l'Orangerie are just some of the many popular museums that France has to offer but if you want to try something a little unusual, we recommend visiting The Museum of Vampires and Legendary Creatures, a small private museum dedicated to … wait for it … vampires. This cabinet of curiosities was founded by Jacques Sirgent, an eccentric but highly knowledgeable scholar and specialist of the macabre who actually believes that vampires do indeed exist. In fact, the museum itself was built as a visual manifestation of his dedicated research on vampirism, esoterism and occidental folklore and features rare texts, antique books, and even a rare 19th-century vampire killing kit. Other objects include an autographed photograph of Bram Stoker, author of Dracula, Hammer Film collectibles, antique books, a large gothic-style indoor garden and a mummified cat found in nearby Père Lachaise cemetery. Mr. Sirgent is also available to give lectures on the museum's collections and walk you through the history of vampiric rituals and endless other tales of horrific historic fact.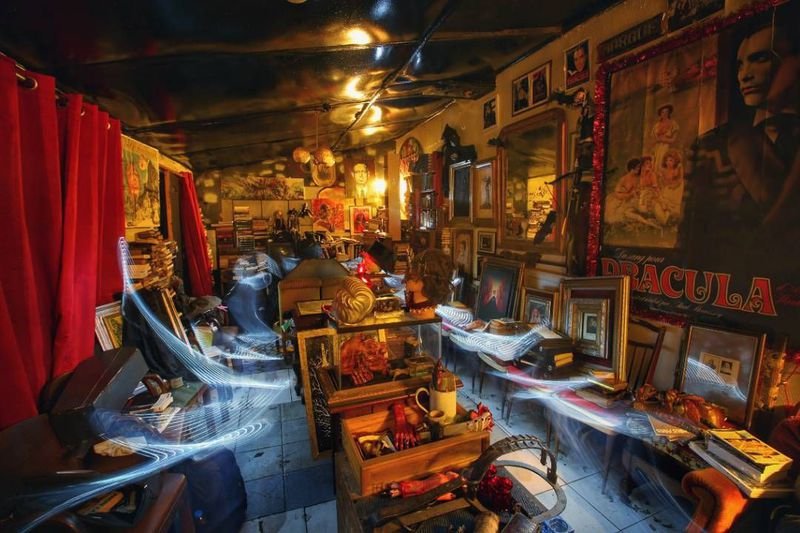 Shakespeare and Company
Teachers love bookstores, and nowadays, no thanks to the digital age, too many of our favorite bookshops are closing down. But while the internet continues to threaten to destroy print media, there still remains a few amazing independent bookstores worldwide. Among them is Shakespeare and Company, an independent English-language bookstore founded on November 1919 on Paris's Left Bank. It was once the center of Anglo-American literary culture in Paris and the hangout for writers and artists of the Lost Generation, such as Ernest Hemingway and F. Scott Fitzgerald, Ezra Pound, Gertrude Stein, George Antheil, Djuna Barnes, Mina Loy, and Man Ray. Today, it continues to serve as a purveyor of new and second-hand books and as a free reading library open to the public. If you're a movie buff you may recognize the shop since it was featured in many films including Richard Linklater's Before Sunset, Nora Ephron's Julie & Julia, and in Woody Allen's Midnight in Paris.
Salvador Dali's Sundial
You don't need to go inside a museum or an art gallery to enjoy great works of art when in France. Take, for instance, this often overlooked masterpiece by the prominent Spanish surrealist, Salvador Dalí. Up above Rue Saint-Jacques in Paris (building #27) sits his unusual sundial. Made of concrete and installed in 1966, this curious monument was meant to reference the scallop symbol of the pilgrimage of St. Jacques de Compostella (also known as the Way of St. James), for whom the street is named. The blue eyes and the eyebrows are said to represent the sun and the flames as a reminder of the heat that the pilgrims endured on their long journey, however, some reports indicate that a part of the sculpture is actually more of a representation of Dali's iconic moustache.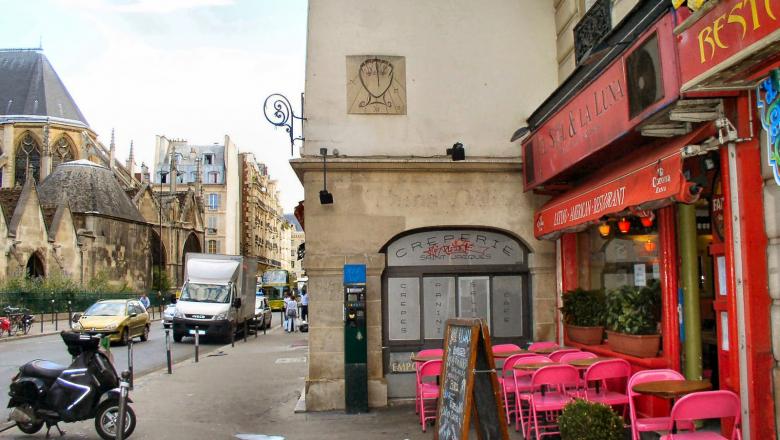 The Louxor
In an era in which Netflix and Hollywood blockbusters dominate the small and big screen, it's nice to know that there still exists independent art house cinemas such as The Louxor. Inspired by the 1917 hit film Cleopatra (staring vamp actress Theda Bara), The Louxor was built by the architect Henri Zipcy in 1921 and was one of the few Egyptian Revival marvels of Paris. It was once owned by the Tati company and at one point was even turned into the Antillean nightclub, (then the Parisian equivalent of the Studio 54) before closing its doors in 1988. In 2013, the city of Paris revamped the site and reopened its doors. Today, The Louxor offers an up-to-the-minute programme with new film releases but also holds a number of events on cinema-based themes, making a great place to take your students to the movies and watch something made outside of Hollywood. Even better, the Louxor also plays a role as a neighborhood cinema and has programs aimed at local schoolchildren.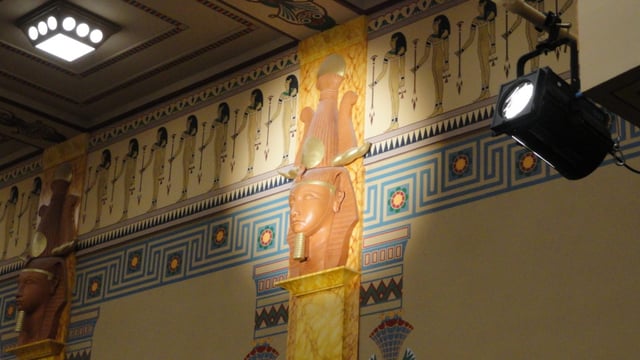 -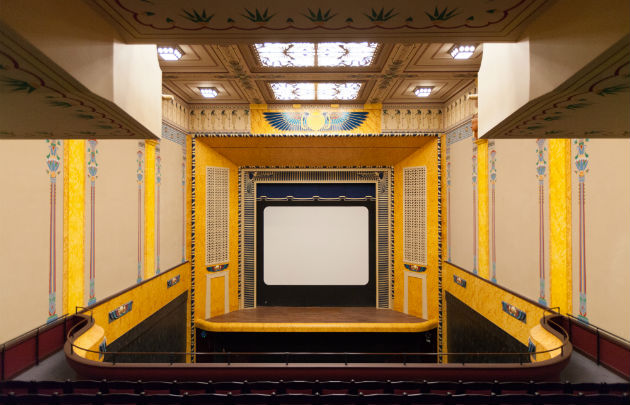 Cave of Lascaux
The Vézère valley cave system near the village of Montignac features over 600 parietal wall paintings that cover the interior walls and ceilings of the cave. The paintings represent primarily large animals (once native to the region) that correspond with the fossil record of the Upper Paleolithic time. The drawings are the combined effort of many generations of artists, and is estimated to be around 17,000 years old, making it one of the greatest discovered works of prehistoric art. Unfortunately, while the Cave of Lascaux was open to the public for many years, it was closed in 1963 due to significant deterioration to the paintings caused by too many daily visitors. While it is unlikely that the cave will ever again be available to the public, a replica opened in 1983 called Lascaux II, which you can visit with your students.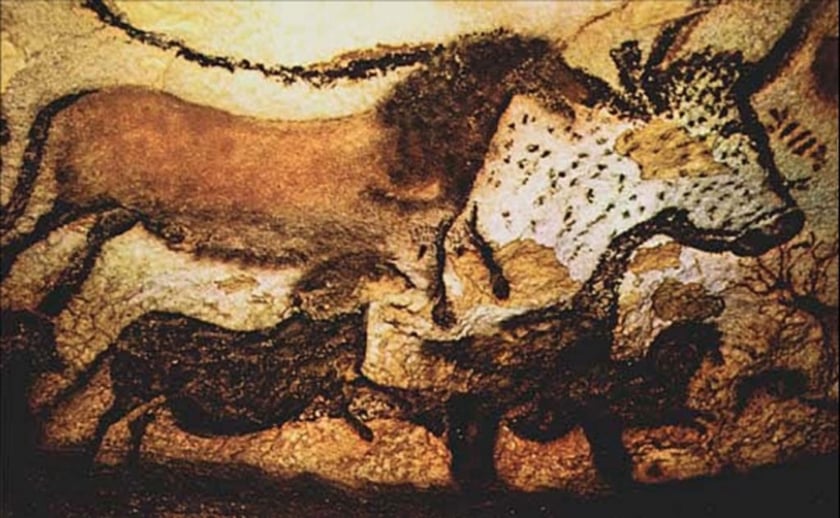 Let us know if you can recommend any other sites that are either free or cheap to visit that not many people are aware exist. In the meantime, feel free to download our free guide to France. Prométour has offices around the world, including one office in Paris, which gives us a true advantage when it comes to organizing educational student tours to Europe! Being that we call France our second home, we think you might find some handy travel tips in our guide that could be useful when visiting this beautiful country!