For anyone looking to add a few things to their bucket list, look no further than the beautiful country of Portugal. This place truly has it all. Stunning coastlines, amazing food and wine, unique architecture, pristine beaches and local traditions. The list of bucket-list-worthy experiences in Portugal is a long one, but we've chosen a small few to spark some inspiration.
Cabo da Roca
Just a short drive from the charming town of Sintra lies the westernmost point of mainland Europe, Cape Roca. Here you'll be blown away by the dramatic drop of the 140-metre-high cliffs, and the picturesque lighthouse peering over the sea. Accessing this site is doable by car, bus or train. Everyone should add a visit to what was once considered the edge of the world to their travel bucket list!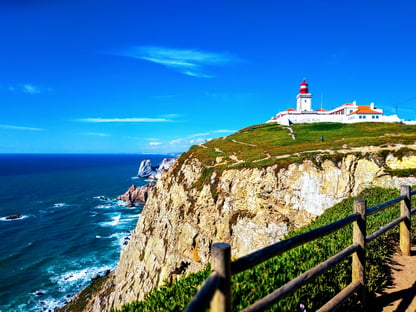 Photo: Cabo da Roca
Fátima
For anyone of the Catholic faith wanting to embark on a pilgrimage, or anyone wishing to make a deeper connection with the religion will most certainly find what they seek in the Portuguese town of Fátima. The town is home to the Sanctuary of Fátima, which is a collection of Catholic buildings and structures that make up this world-famous pilgrimage site.
Here you'll find the Chapel of the Lausperene, Basilica of Our Lady of the Rosary, the site of the 1917 Marian Apparitions, the nearby Basilica of the Holy Trinity and more. There are several museums and exhibits there as well that are designed to expand the visitor's knowledge and understanding of the site and its significance.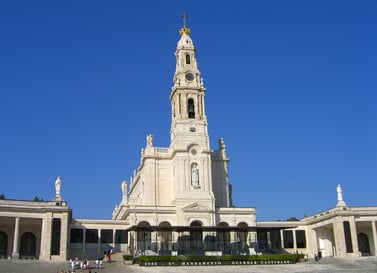 Photo: Basilica of Our Lady of the Rosary, Fátima
Porto
Anyone who plans on visiting Portugal should consider adding a few days in Porto to their itinerary. Porto is a great hub for visiting other bucket-list-worthy places in northern Portugal, but the city itself has a great deal to offer. Porto is an increasingly popular tourist destination for many reasons. Visitors can enjoy what some say is the best nightlife in all of Portugal, beautiful beaches, affordable accommodation and transportation, narrow and winding cobblestone streets, the Porto Cathedral, medieval architecture, uniquely creative food, and of course… port!
To take full advantage of your time in one of the world's leading wine regions, it is highly recommended to check out the historic Port Lodges along the southern bank of the Douro River. These cellars are where the port produced in the nearby Douro Valley is brought to age. A great option is to visit several of them on a cruise where you can also enjoy a few tastings. If you're looking to go even deeper into the production of port, travel to the Douro Valley by river cruise or car to take advantage of the many different wine tours of this beautiful region.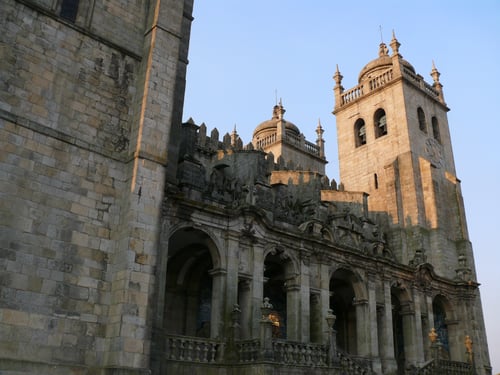 Photo: Porto Cathedral