As one of the oldest European cities in North America, Quebec City will give you a glimpse into the classic French lifestyle. Quebec City's offerings range from historical sights to exciting urban exploits! Glance through our list of Quebec City essentials and envision a trip that is seemingly abroad.
Quartier Petit Champlain
Discover a 400-year-old shopping promenade as you stroll through Quartier Petit Champlain. Surround yourself with classic French architecture and walk through the picturesque backdrop. Beyond the shops, Quartier Petit Champlain is filled with a variety of sites. Visit Samuel de Champlain's first residence, Notre-Dame-de-Victoire church or ride up the funicular for a view of the St Lawrence below.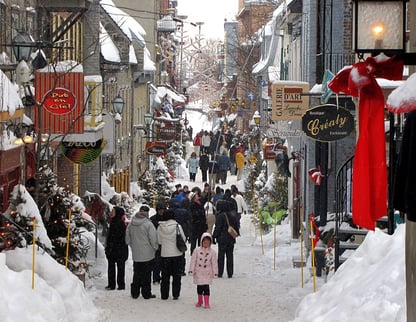 Spend an afternoon shopping in Quartier Petit Champlain's beautiful boutiques
Plains of Abraham
While you are in Quebec City you must visit the Plains of Abraham! As a pivotal component of Quebec history, the Plains of Abraham served as the battleground for what is often referred to as the Battle of Quebec in which the British seized the city from the French. Today with its central location, the historic battleground doubles as a park and hosts a variety of festivals and concerts, most notably those of Quebec's own Celine Dion!
Fortified City Tour
Quebec City is the ideal destination for the history buff due to its meticulous preservation of its past. As staunch reminder of their history, the Old Town is the only remaining fortified city north of Mexico. The walls have quite the story to tell as they were first built by Champlain as early as 1694 and were later refortified by the English after the Battle of the Plains of Abraham. A tour of the World Heritage site will illustrate the city's previous military strength and provide insight to the colony's conflicted history.
Chateau Frontenac
The famed Chateau Frontenac is a must-see while visiting Quebec City. Rumored to be the most photographed hotel in the world, the Chateau Frontenac stands over the St Lawrence River by the Dufferin Terrace. While you visit, try to discover the best vantage point to view the hotel; we've heard that the best photographs are taken across the river in Lévis or from the Old Port!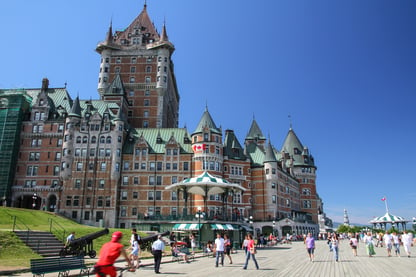 Explore the city to find the best vantage point to photograph Chateau Frontenac!
Bonus - Winter Carnival
If you visit Quebec City during February, and of course we hope you do, you will find yourself in the midst of the annual Carnival. Watch as the city transforms into a winter wonderland and comes alive for the ultimate celebration. Take part in various winter sports, watch the opening parade, and explore local restaurants' outdoor kiosks. As one of North America's largest winter festival, Carnival is a Quebec City essential and should not be missed!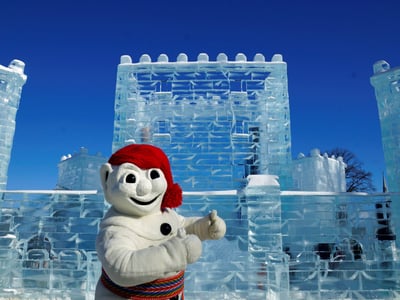 Walk through the stunning ice sculptor displays!