Cater to your inner explorer during your visit to the Montmorency Falls! Located about an hour and a half away from Quebec City, the national park is home to the falls that notoriously dwarf those in Niagara. The Montmorency Falls include three separate waterfalls, however, the most recognizable is the Grand Sault which stands an impressive 83 meters tall.
You can conquer the falls in a variety of ways depending on the intensity of the adventure you're seeking!
Level 1: Easy Going
Looking to take a lax approach to the falls? No problem, the cliffs are equipped with multiple staircases and six trails for you to explore. Take your time climbing the paths and get to know the falls from a myriad of different perspectives!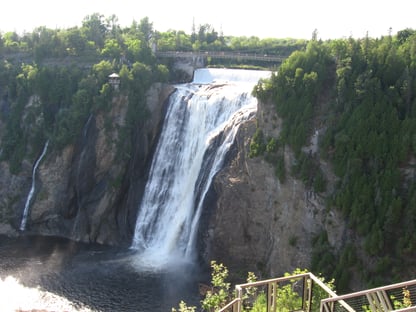 Climb up the stairs to get a perfect view of the falls
Level 2: Braver than Most
Take your Montmorency experience to new heights and walk above the water! Climb even higher than the waterfalls and reach the suspension bridge; the most courageous will walk across the rapids. The bridge is 30 meters long and you'll want to stop in the middle to listen to the roaring water cascading below you!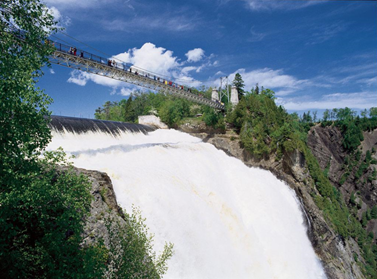 Walk above the rapids on the suspension bridge!
Level 3: Dedicated Thrill Seeker
If you're committed to a full adrenaline rush do not miss the opportunity to get up close and personal with Montmorency Falls. How often can you scale a waterfall and zip line across it? The falls' natural mist against your face will make for an unforgettable experience! Begin your climb at the Boischatel crevasse and land by La Baronne observation deck.
After your adventure, do not forget to refuel at the Manoir Montmorency's restaurant and terrace. Enjoy your meal with a spectacular view of your surroundings!