Planning the ultimate west coast road trip? If you have the time, it's certainly worth it to start in Seattle and drive the entire Pacific Coast Highway, as there are many cool stops to make throughout Washington and Oregon before hitting sunny California. In this blog however, we're going to showcase a few of the highlights you'll see as you cruise through Cali.
The California portion of the PCH stretches from Crescent City to San Diego. It's worth it to drive North to South so that you're on the side of the highway with a better view of the coast. Below are just a few of the sights you should plan to see along the way.
Half Moon Bay
If you love all things ocean, you'll certainly want to stop and visit this adorable sleepy beach town situated less than an hour away from San Francisco. Meander along Half Moon Bay's historic Main Street, hike along the California Coastal Trail, indulge in a delicious seafood dinner and if you're feeling really adventurous, give Goat Yoga a try at Lemos Farm!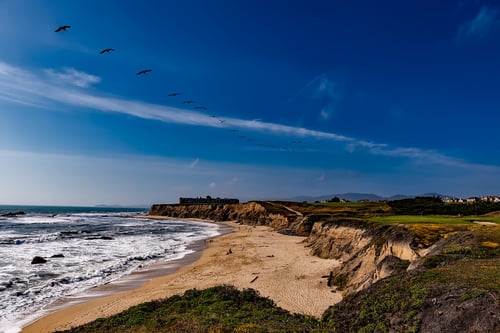 Half Moon Bay, CA
Hearst Castle, San Simeon
You're bound to pass through San Simeon, so we recommend spending a bit of time in this area so that you can enjoy breathtaking beauty of Big Sur, see the elephant seals, visit the historic Piedras Blancas Light Station, spend time on the beach and of course, tour the famous Hearst Castle.
Hearst Castle is a must-see for anyone who wants a glimpse into the extravagant life of publishing tycoon William Randolph Hearst. Creation of the property was started in 1919, and after being designed by architect Julia Morgan, was completed in 1947. The grounds span 127 acres of land and offer stunning views of the central coast. The castle itself consists of 165 rooms, and is an extraordinary example of excessive luxury and lavish taste.
Guests can choose from a number of different experiences offered, such as the Grand Rooms Tour, Art Tours, Hollywood Tours, or others that focus more on the design of the complex and Julia Morgan herself. California is home to many mansions, but this one is sure to stand out.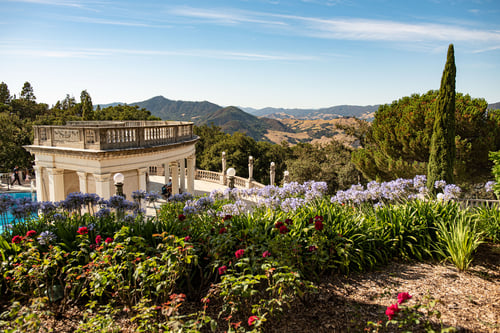 The extravagant Hearst Castle.
Pismo Beach
There are many adventures to be had during this stop on your Pacific Coast Highway road trip! Located along the central coast portion of California, Pismo Beach is here to fulfill the needs of all types of travelers. It keeps up with the theme of other places on this list with opportunities to visit amazing local wineries, relax on gorgeous beaches and enjoy the laid-back California lifestyle.
Pismo beach is also a spot where you can plow through the sand in a Hummer, fly over the central cost in a 1942 open cockpit biplane, enjoy some live theatre, plan a day of kayaking, indulge in spa treatments, or visit some nearby mineral springs.
Whatever is on your list, you can surely check off a few activities in Pismo Beach!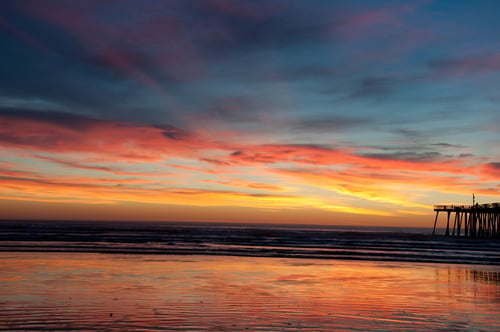 Pismo Beach, CA
Solvang
Want to pretend you've teleported from the United States and wound up in Denmark? You can do just that on a visit to Solvang, the Danish town right in Santa Barbara County. Notable for its classic Danish architecture, bakeries, restaurants, festivals and boutiques, Solvang is a great stop to make during your drive down the Pacific Coast Highway.
Besides embracing the unique ambiance and Scandinavian feel of the town itself, there is lots to do in the area to make for an entertaining stay. Luckily, Solvang is located right in the Santa Ynez Valley and visitors can benefit from all the advantages of being in wine country. There are over 120 wineries nearby, most of which are family-owned. Solvang also has several tasting rooms and wine bars right in town that are sure to please those who enjoy tasting local wines. There are also lots of great outdoor activities, museums, live music and theatre performances, as well as a newly introduced annual grape stomp festival!