While Portugal has many enticing attractions, do not overlook the country's absolutely delicious desserts. These treats are all delectable and also have endearing origin stories. We've taken the time to do our research (and interview our Portuguese Prometopian expert) to compile a list of some of the most mouth-watering Portuguese desserts, take a look below!
Pastéis de natais
Pastéis de nata has quite an interesting origin story. Created in the 18th century in Lisbon, these desserts were created by monks who needed to repurpose the leftover yolks from eggs that were originally used to staunch their religious garb. Pastéis de nata is a puffy pastry that is filled with a delicious custard and egg yolk. The perfect pastéis de nata recipe is a coveted combination, many Portuguese bakeries refuse to reveal their unique formulas! The only way to discover the best recipe is to try them all!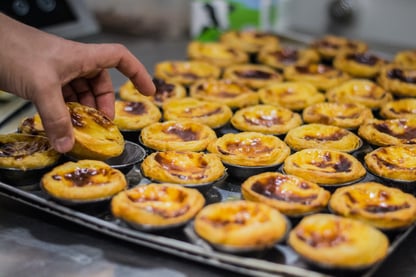 You must try pastéis de nata, it's a delicious puffy treat!
Molotof pudding
This pudding is another classic Portuguese dessert; much like the pastéis de nata is the result of an excess of egg yolks, molotof pudding is the product of unused egg whites. Also referred to as molotov flan, taking a bite into the pudding is like tasting a fluffy caramelized cloud. The dish itself is quite simple and only requires egg whites, sugar, water, and butter. If you can't wait until your trip to Portugal, we suggest trying your hand at baking it yourself!
Pastel de feijão
You must try this traditional Portuguese dessert with the humblest beginnings: pastel de feijão. Originating in Torres Vedras, this family recipe was passed down from generation to generation until it became a renowned Portuguese dish. The pastel de feijão is a pastry dessert filled with beans and almonds custard, topped with a sprinkle of sugar. While it may sound unusual, this tart is absolutely delicious. Make sure to stray away from Lisbon's city center to taste a pastel de feijão in its home of Torres Vedras!
Malasada
Malasada is sure to satisfy your deep-fried cravings. This Portuguese confection is much like a donut, just without a hole! These dough balls are usually topped with powdered sugar or cinnamon. This delicious treat is typically eaten on Terça-feira Gorda, which you many know as Mardis Gras! During the Portuguese Discovery Age, this delicious dish travelled from the Azores, to Hawaii and to mainland America. You will easily be able to sample malasada anywhere in Portugal as it is a bakery essential!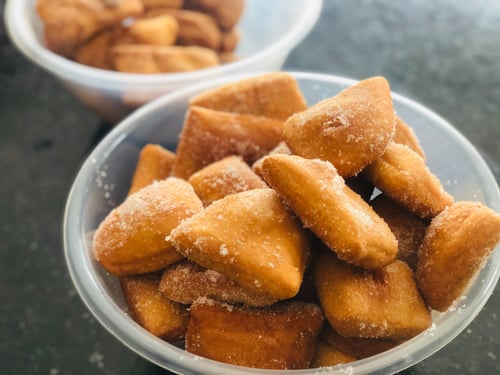 Malasada is a Portuguese is a deep-fried bakery staple!
There's a lot to taste… Better begin planning your Portuguese adventure now!